Postal authorities hope to tap print club revival
02/08/2002 (20:00)

TOKYO (LoveIndonesiaPhilately) - Instant photo sticker machines such as the "print club" booths seen in video game arcades, supermarkets and train stations a few years back are again the rage, prompting postal authorities to ponder the potential profits of allowing such photos as personalized stamps.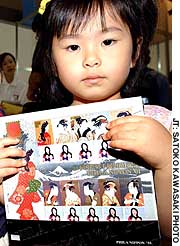 A girl holds up trial-run stamps bearing photos of her family at last summer's Japan World Stamp Exhibition in Tokyo. Photo sticker machines first took off in 1996 with high school girls and other young women taking photographs of themselves and swapping the photos -- the size of a business card -- with friends.
There were 50,000 machines set up in video game centers, shopping centers and photo shops at the height of the boom in 1997.
The number dropped thereafter but the machines began to stage a gradual comeback in 2000 due to their makers' energetic efforts to develop new software.
The latest boom has made the instant picture sticker business a 50 billion yen industry, and the Postal Services Agency is preparing to get on the bandwagon with plans to sell stamps carrying people's photographs.
Its idea is to use digital cameras to take photographs of users at post offices and integrate them into stamps using personal computers.
Such stamps were sold on a trial basis last summer at an international stamp exhibition.
The era of e-mail has alienated many people from writing letters. But an official of the Japan Amusement Machinery Manufacturers Association said the postal agency's idea could catch on, with people for instance sending letters to their parents using stamps with photographs of their own children.
The official said couples planning to wed could also use stamps with their pictures to send invitations to their wedding reception.
Hitachi Software Engineering Co., the biggest firm in the software industry, sparked the current boom by developing a new software product that literally translates into English as "pure heart, beautiful photograph."
In the product, Hitachi engineers developed a new lighting method that allows the subject to be cast in soft light. Because it does not create any shadows, small spots such as acne can be hidden.
Analysts said software that enables subjects to choose from four light settings has been marketed.
The lighting fixtures in picture sticker machines are said to be on a par with those used by professional photographers in studios.
Shigeo Nakajima, chief engineer of Hitachi Software, said: "It is all right if a girl thinks pictures taken by the picture sticker machine are beautiful. It is the definitive difference of the device from digital cameras being sold for use by the general public."
The machines' users also can express themselves creatively by using special pens on the monitor. They can doodle on a picture in their favorite color and choose different backgrounds.
Operators of photo booths and shops where the machines are installed have also helped fuel the latest boom.
The owner of one shop has displayed a sign reading, "Men are not allowed to enter alone," in a bid to lure couples to the booth.
A specialty magazine meanwhile has started a contest in which it is asking readers to send in pictures taken in the booths.
Some people in the industry now wonder if it is possible for Japan to export photo sticker machines just as it did with karaoke systems. (Kyodo News/ The Japan Times: Aug. 2, 2002)
---
HOME | Today's News | Shopping
Copyright 1999-2002 © SuratkabarCom Online